22 September 2020 together with co-author I published my first SF Cyberthriller 'Het Virus' . It's a compelling thriller in Dutch about a very dangerous computer virus which will threaten the world like a biological pandemic.
"Utrecht, 13 February 2034. A self-driving car is hacked and disrupted, resulting in a fatal crash. NATO, which oversees global internet security, realizes that the world is in danger when two more attacks occur shortly thereafter. Europol inspector Lara Hartman and communications officer Frank Willems start a feverish manhunt for the perpetrators behind this awesome form of cyber terror. Everything seems to indicate a particularly dangerous computer virus. A race against time ensues to find an antivirus that can stop evil …"
For much more information have a look at the (Dutch) website of the book itself where you even can find the prequel of the story: www.hetvirus.com
---
Famous German publisher Springer launched 'Cybergefahr' in the D-A-CH countries, a book written by Eddy Willems, G DATA's Security Evangelist.
This blog article was originally posted on the G DATA Security Blog and includes an interview with me.
As the boundaries between the real world and the virtual world become blurred, the Internet is turning into a stamping ground for cyber criminals. They are using targeted malicious activities to cause untold damage to private individuals, companies or even entire governments of a country. Internationally renowned security expert Eddy Willems has set himself the target of enlightening company managers, politicians, government representatives and end users to this – and not just in the IT sector. Once equipped with the necessary knowledge, readers of the Springer book on cyber threats are able to recognise dangers in the digital world and protect themselves against cyber attacks. The book does not presume any prior knowledge – whether the solutions needed are for PCs, smartphones or entire company networks.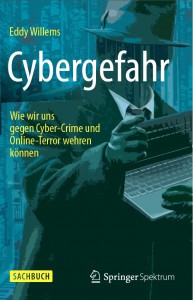 "It would be nice if we could make the world a little bit safer and at the same time make life a little bit harder for cyber criminals with this book," says Willems in his introduction to the book. However, no IT system is basically immune to these risks. Both Windows and Apple devices have become victims of malevolent malware. But in the opinion of the expert, professionals disagree as to when the first computer virus was actually born. Some say it was Creeper, the first worm in an experimental program dating from 1971. However, it might also be Elk Cloner, which was only recognised as a virus many years after it was discovered. The only certain thing, says Willems, is that "the distribution of malware initially took place at a snail's pace, moving from computer to computer via diskette; but with the introduction of the worldwide web, things rapidly intensified in terms of speed and the number of cyber victims."
This book is an updated and translated version of Willems' original Dutch book 'Cybergevaar' ("Cyberdanger" in English), originally published by Lannoo, in October 2013, in Belgium and the Netherlands. "Writing a book about cyber threats in a comprehensible and comprehensive way is not an easy task, but the book 'Cybergevaar ' succeeds in this", certifies the book's first review, conducted by a well-known Belgian IT magazine, Datanews. Another review by the known Virus Bulletin magazine is referencing it as 'a pleasant read on an important subject'.
---
IT security Information for everybody
I finally did it. In the beginning of October 2013, I and the Belgian publisher Lannoo (www.lannoo.be ) officially launched 'Cybergevaar' in Belgium and the Netherlands. It was not an easy job, I can tell you but I always wanted to do this. It took me about 8 to 9 months to write and finalize it. That's also part of the reason why I didn't blog that often anymore during that period.
"Writing a book about cyber threats in a comprehensible and comprehensive way is not an easy task, but the book 'Cybergevaar ' succeeds in this", certifies the book's first review, conducted by a well-known Belgian IT magazine, Datanews. The book "Cybergevaar" tries to provide a very readable and very accessible overview of almost every information security related problem and malware. It reaches out to the general audience and does not only target the technically savvy reader but provides information for everybody.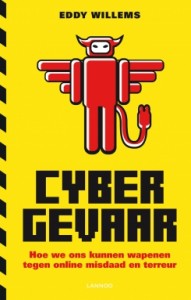 "Cybergevaar" starts with an overview of the history of malware and looks into the many profiles of malware writers and hackers. One of the chapters touches the topic underground economy and is using a lot of examples to explain the involvements. It is based on a whitepaper written by G Data SecurityLabs. Furthermore, new developments in the fields of cyber attacks, sabotage and espionage are discussed and looked into from different angles. The daily threats and the myths about malware are described in a detailed way. Among this, the chapter about general security tips and tricks is interesting for everybody. The book also provides a special chapter with thorough advice for companies.
While exploring the book, the reader can find several exciting security anecdotes and entertaining situations one possibly has never heard of before. Additional clarifications are provided throughout the entire book by use of attractive illustrations and easy-to-understand graphs. High-level opinions of people with experience and interest in the ICT security industry are included: Professionals such as Natalya Kasperskaya (InfoWatch), Ralf Benzmüller (G Data), Peter Kruse (CSIS Security Group), Bob Burls (Independent IT Security Consultant) are amongst the contributors.  The book also seeks to elaborate on how governments and the media can play a role in the 'education' of users. Moreover, it gives an inside look into the computer security industry and organizations like AMTSO and EICAR. And, of course, 'Cybergevaar' does not miss the opportunity to highlight how the problem and its solutions may develop in the future, with a special chapter in the form of a short story – 'Radical Ransom' – set in the year 2033.
"Cybergevaar" by Eddy Willems, Lannoo, 213 pages, is now available in Belgian and Dutch bookstores and online shops.  Plans to publish this book in other languages, such as German and English, are currently being discussed.
Official Website (Dutch): www.cybergevaar.be and www.cybergevaar.nl
You can also order your version of the book via this webpage: www.lannooshop.com/gdata
---