Blogging and other Information …
I started my website August 25 1995. It was and still is dedicated to cybersecurity. Honestly speaking I always wanted to help people and that was part of my way to deal with it.  I started to blog September 2004 and I'm still doing it. However my blogs are divided up all over several websites since then.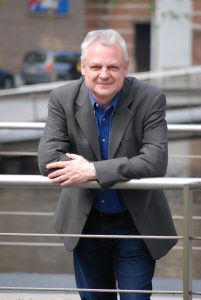 You have a pretty good overview at my own website http://www.anti-malware.info also reachable via http://www.wavci.com at the 'about' and at the 'blog' pages.
You can find some of my very old blogs going back to 2004 at the following link http://eddywillems.blogspot.be/
I don't expect that you still can find something from me at the Westcon Group Belgium (formerly NOXS) http://be.security.westcon.com/. The same seems to be true for Kaspersky Lab https://blog.kaspersky.com/
Most of my blogs or opinions since 2010 are published at the Blog page from G DATA Software AG http://blog.gdatasoftware.com (English and German)
As I'm an 'Insider' (read 'expert') for Data News (Belgium) you can find several of my blog pieces in Dutch at their site http://datanews.knack.be/ict/auteurs/eddy-willems-963.html?show=opinions Actually I'm doing this for over 10 years now.
I'm also writing opinion pieces for ZDNet (Belgium/Netherlands): http://www.zdnet.be/hetteam/eddywillems
I'm also an expert for Computable (Netherlands and Belgium) where I also gave several opinions about lots of security topics in the past https://www.computable.nl/profile/250/eddy-willems.html
I personally enjoyed writing my book 'Cybergevaar' ( + translation/update 'Cybergefahr') even more than my blog posts. You can find more about it at www.cybergevaar.be (Dutch) or www.cybergefahr.de (German) . It's a hell of a job but it's worth the result.
I also enjoy public speaking a lot as it put you in front of different publics, at least that's the case for me. I reached out to people from 12 years old to 92 years old, from children to experts. It's giving me the ultimate experience to communicate with people in a different way. This is done for G DATA or via my public speaking office in Belgium ReadMyLips (http://www.readmylips.be/en/speakers/eddy-willems ) .
Above all, I always like to give my honest opinion about all security related matters to the press and media. This is my way to help people to protect their devices and their privacy or lives. This resulted in the past 20 years in lots of media articles, radio and TV interviews or broadcasts all over the world. I will continue this as I feel that my job as Security Evangelist isn't finished yet. Still a lot of work has to be done. I'm really looking forward to it! Let's keep up the good work.
This blog post was originally posted on LinkedIn.